We are not
just a number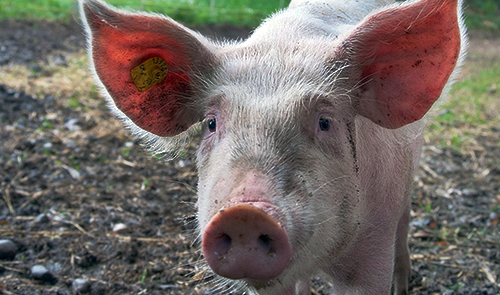 My name is 13920, but my caretakers call me Greta. they make me fat to sell my meat to a supermarket. I will not live another month after that happens. Nothing you do now will prevent me from dying, but it is in your hands to try to save many others like me.

I live on an organic farm, so it's the most luxurious thing you'll find, although that does not matter when I'm taken to the slaughterhouse truck. More than 700 million other animals are crammed into conditions much worse than mine. Unhealthy places, fed with a mixture of grains, dried carcasses, antibiotics, and hormones. They are nothing more than a number, just a number. Like me.

I know we can count on you. You don't agree with an animal worth is set by its market price. AnimaNaturalis wants to eliminate the cages, prohibit the use of antibiotics that allow to businessmen to keep us in pathetic conditions, well regulate the live transport and demand the surveillance of all the farms ... basically, they work to reduce as much as possible the numbers of animals like me suffering.

But it's not enough. The main thing is to promote alternatives to meat consumption. We must encourage the consumption of protein of vegetable origin ... and receive the same grants and subsidies as livestock. AnimaNaturalis also works on this.



Help to definitely change the world for animals like me. Millions of animals await your help. We are more than just a number.


© AnimaNaturalis Internacional
Apartado de Correos 714, 08080 Barcelona