Dear Friends of Return to Freedom,
I write this letter today because of our shared concern for wild horses and their habitats. Horses have been in my life for as long as I can remember, and I care deeply about their future. That's why I am a strong supporter and Board member of Return to Freedom.
Together we have worked hard to support and protect the American mustang. Today, their future has never been more threatened.
The proposal for the 2018 budget includes provisions for the BLM to use all tools available to reduce wild horse and burro populations including mass slaughter and unlimited sale without restriction.
To turn our backs on them now is unthinkable. We can't let this happen.
Return to Freedom needs your support so that our voice is heard every day.
After decades of investing millions of tax dollars for the protection of wild horses after their capture and removal from the range, destroying them would be the ultimate betrayal, especially when humane alternatives have long been available and confirmed by the National Academy of Sciences 2013 report.
For 19 years, Return to Freedom has held an unwavering commitment to pioneering a new approach to our relationship to America's wild horses.
Not only does Return to Freedom provide direct care and safe haven to over 500 wild horses and burros, it also conserves rare and threatened strains of the original Spanish Mustang, educates thousands of people through innovative programs and advocacy, and is a highly respected resource and national voice for wild horse conservation.
I am proud to stand with Return to Freedom to advocate for sustainable solutions for wild horses on America's vast rangelands.
While we are grateful for the progress that has been made, there is still much to be done. It is only the generosity of people like you who make this important work possible.
Will you join me in supporting Return to Freedom? Together we must ensure that future generations will still have the opportunity to be enchanted and inspired by America's wild horses on the western landscape.
Thank you for standing with us!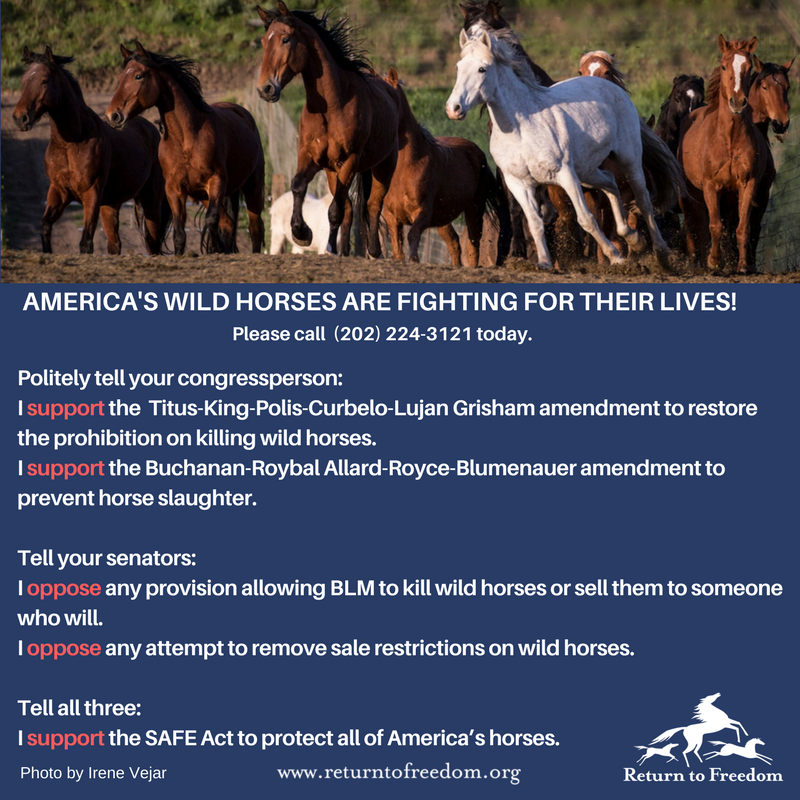 Take Action: Please Call Congress Now!
Congress returned today from its August recess, and appropriations bills are near the top of its to-do list.
These include the House Interior Appropriations bill, which has been amended to allow the Bureau of Land Management to kill healthy unadopted wild horses, and House Agriculture Appropriations bill, which for the first time in years does not include protective language to stop horse slaughter in the United States.
Both are now included in a combined appropriations bill, HR 3354.
The House Rules Committee is expected to vote as soon as Wednesday on whether to let the
Titus wild horse amendment
go to the floor for a vote.
Please call your representative and senators now and urge them to stand with America's wild horses. If you reach voice mail, please leave a message. If you're unable to get through, your members of Congress should have district phone numbers listed on their websites that you can call, instead.
Contact Us
Return to Freedom
P.O. Box 926
Lompoc, CA 93438
Phone: (805) 737-9246